Series revivals are all the rage these days, and it's a trend we support one-hundred percent. It's nostalgic and fun and, in our opinion, cause for celebration!
In the not-too-distant future, Netflix is going to release its much anticipated Gilmore Girls revival. And, as you can tell, we're a little excited about it.
[caption id="" align="alignnone" width="501"]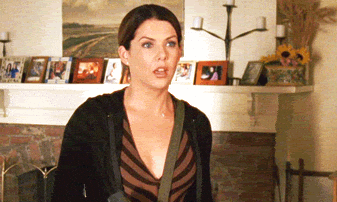 Via giphy.com[/caption]
Okay, you caught us—we're a lot excited about it! Even though we know the series isn't likely to become available before fall or winter, we are making preparations right now. We're eating healthy and exercising regularly, so when we sit down and eat junk food for twelve hours straight during our Gilmore Girls revival Netflix binge, our bodies won't deteriorate completely.
There are those who would tell us that it's not healthy to eat so much junk food. That it's a bad idea. That we should eat celery and raisins instead. Here's what we'd like to do to those people:
[caption id="" align="alignnone" width="505"]
Via tumblr.com[/caption]
Do we look like we're trying to be healthy when we binge-watch Netflix? No. Hell no. They might be called marathons, but watching a TV show for hours isn't exactly an athletic event—though, it could be argued that it takes skill and training. So, you go ahead and scold us all you want. We're doing it, anyway.
[caption id="" align="alignnone" width="454"]
Via giphy.com[/caption]
We're going all out for our Gilmore Girls revival party, and if you're a hungry real fan of the show, you'll do the same. Make Lorelai and Rory proud, and chow down on some of their favorite foods. Check out our special lineup of delicious junk foods for your binging sesh.
15

Rocky Road Cookies
Sookie made rocky road cookies for Rory—only, they weren't for Rory. They were for Dean Forester, Rory's first boyfriend. Ponder which of Rory's boyfriends is your favorite as you eat these rocky road cookies and enjoy the Gilmore Girls revival series.
14

Tacos

[caption id="" align="alignnone" width="500"]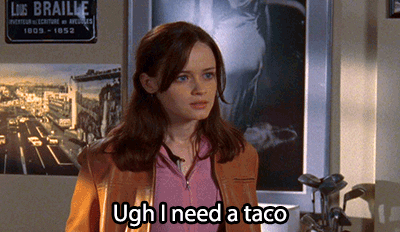 Via giphy.com[/caption]
We feel you, Rory. It's always a good time for a taco. Their savory, crunchy goodness may not solve our problems, but it's way easier to get a job done when we have a taco in one hand. Tacos might just be one of the best things you could make for the revival, not only because they get mentioned often in the show, but also because they eliminate the need for a knife and fork, which makes for easier TV watching.
13

Pie
We have a lot in common with Lorelai Gilmore. We, too, are attracted to pie. Just look at this one. That's got to be one of the prettiest slices of pie we've ever seen. We don't feel the need to date this pie, but we do feel the need to make one to eat when we watch the Gilmore Girls revival.
12

Burgers
For Lorelai and Rory, hamburgers are as close as it gets to having a salad. They are delicious, after all. While you can't have one of Luke's famous burgers, you should definitely splurge on your Gilmore Girls binge-watch and make one of these burgers.
11

Red Velvet Cake
Hmmm, Lorelai makes a good argument here. Red velvet cake is delicious. It's just the treat to eat during the revival. Ditch the cake mix and make your very own red velvet cake from scratch. It's easy when you use this recipe.
10

Orange Chicken
Maybe your local pancake house actually does serve only pancakes. But Al's Pancake World serves up international cuisine, and it's the Gilmore's top pick for Chinese food. Hey, you know what? Chinese food sounds like just the thing to serve up at your Gilmore Girls revival party! Check out this orange chicken recipe here.
9

Blueberry Pancakes
Aside from recommending you to try these pancakes, we'd just like to take this opportunity to say how freaking excited we are that Michel Gerard is going to be in the revival. We missed his snarky, fastidious, Destiny's Child-loving self. Anyway, we all remember that one time Sookie was nice enough to make her delicious blueberry pancakes for him, but made him swear he wouldn't count the blueberries. It's quality content like that scene that has us anticipating the revival.
8

Mallomars
As if we needed another reason to make these homemade Mallomars! Remember that time Rory spelled out "Happy Birthday Lorelai" with a bunch of those delightful, marshmallow-filled cookies? It was that special appearance that landed them a spot in this lineup.
7

Fries

[caption id="" align="alignnone" width="502"]
Via tumblr.com[/caption]
Mrs. Kim says fries are the devil's starchy fingers—but did you sinful Gilmore Girls fans listen to her? No! You better enjoy those fries while they last, you heathen, because, according to her, you're may have a trip booked to hell. But you know . . . if you make these oven baked fries to munch on when you watch the revival, you won't have to tell Mrs. Kim what you did. It'll be our little secret.
6

Doughnuts
Doughnuts can't talk. In fact, they aren't even alive, so we'll never know for sure whether or not they're happy. But we do know that you'll be happy to make these gorgeous and delicious vanilla bean baked doughnuts to snack on when you finally sit down for a Gilmore Girls binge.
5

Pop Tarts

[caption id="" align="alignnone" width="502"]
Via celebuzz.com[/caption]
A staple in the Gilmore house, and, for Lorelai, a symbol of independence and rebellion from her mother. You just can't have your Gilmore Girls revival party without a ready supply of Pop Tarts. You could always pick up a couple of boxes on your next trip to the supermarket—or, you could make these flaky, fruit-filled homemade Pop Tarts.
4

Ice Cream
We don't know about you guys, but we're too far away from Stars Hollow to grab an ice cream from Taylor's Olde Fashioned Ice Cream shop and make it back home to watch the revival before it melts. Oh, well. This salty but sweet salted caramel ice cream can be made at home, so you'll be able to eat it in front of the TV.
3

Red Vines
Pull the shades, turn off the lights, and grab some Red Vines to snack on when the revival hits Netflix. They're the perfect movie candy. You can try your hand at making some by following this recipe. Or, you could pick some up at Target. Whatever works for you.
2

Coffee

[caption id="" align="alignnone" width="502"]
Via buzzfeed.com[/caption]
Okay, so we know that, as a beverage, coffee isn't really a snack. But coffee is an integral part of Lorelai and Rory's world, and we couldn't call ourselves legitimate fans if we didn't include it in this lineup. Before you settle into your favorite comfy chair to watch the revival, make sure you brew one of these spiked coffees—inspired by Lorelai Gilmore, herself—to help you power through your binge.
1

Pizza

[caption id="" align="alignnone" width="502"]
Via tumblr.com[/caption]
You don't have to top your slice off with some steak sauce like Lorelai does, but you do have to have some pizza at your Gilmore Girls shindig. Pizza appears so often on the show, it should be mentioned in the credits. The Gilmore household would fall apart without it, and so will your party. So if you don't order from your local pizza joint, try out this recipe for a New York-style pie. Happy Gilmore Girls revival, everyone!