Like every human being does at some point, one day you decide to get your life together, make a five-year plan, clean your house and decide to become healthier when it comes to your food choices. But, the need of wanting to be a healthy adult and eating tasty food at the same time, entices you. Then, life happens, you get busy and suddenly greasy, carb-filled food mysteriously pops up in front of you and you want that instead. Let's be honest—not only is bad food tasty, but it also requires less work, or so we all think. Below are 15 recipes that stemmed from not-so-healthy foods but, with a little substitution, these dishes can be an enjoyable meal and healthy for you. Enjoy!
15

Cucumber Sushi Rolls

[caption id="" align="alignnone" width="407"]
Via: liveeatlearn.com[/caption]
Okay, it seems as though people either love cucumbers or hate them. They get a bad rep and they don't really have a lot of taste to them, which could be the reason why. But, they are extremely healthy for you and contain a lot of nutrients. Sushi is great when served in a restaurant, but the actual process of making a sushi roll seems time-consuming and expensive. With the substitution of a cucumber, it takes less time to make and again, it is healthier for you. With this recipe, you can stuff the cucumbers with basically any vegetable you'd like. This particular one contains red and orange peppers, along with rice and avocado. Like most people know, avocado is a great healthy fat and in correct portions, rice isn't so bad either. Replace white rice with brown to save yourself many milligrams of sodium. Sushi at home without the hassle—perfect!
14

Mexican Quinoa Stuffed Peppers

[caption id="" align="alignnone" width="403"]
Via: thegardengrazer.com[/caption]
Mexican food is great, but usually packed with sodium and too many carbs if you aren't careful. With a few alterations and still a ton of flavor, Mexican quinoa stuffed peppers are a go-to meal. The only ingredient that takes a bit of time is the quinoa, which is packed with good carbs and is a great substitute for brown or white rice. While the quinoa is being cooked, you can get all the other ingredients ready in the meantime. Toppings such as sour cream, lettuce, guacamole or salsa are optional. The good thing about this dish is that it makes portion control easy and you can make extra for the next day! This recipe is also vegan and gluten-free. Other substitutions you could make are: fat-free Greek yogurt for sour cream and homemade salsa with herbs, spices or other fresh ingredients to lower the sodium intake.
13

Lasagna Rolls

[caption id="" align="alignnone" width="577"]
Via: tablerpartyoftwo.com[/caption]
Who doesn't love pasta? Seriously, it's one the yummiest foods ever. And there's so much variety, too! You have your choice of penne pasta, bowtie pasta, linguine, or lasagna. The only downside is that almost all of it is loaded with carbs and not good for the waistline. Instead of torturing yourself and giving pasta up completely (which is practically impossible), simply try this recipe! It cuts the calories, is easy to make and is tasty enough for everyone. Containing only eight ingredients, these "skinny lasagna rolls" are sure to please the entire crowd. They're made with lasagna noodles, chopped spinach, fat-free ricotta cheese, Parmesan cheese, an egg, salt and pepper, spaghetti sauce and skim mozzarella cheese.
12

Buffalo Chicken Bites

[caption id="" align="alignnone" width="435"]
Via: taylorandandrewchurch.blogspot.com/[/caption]
Chicken wings are a must when it comes to events such as summer barbecues or Super Bowl parties. While they are super tasty, they aren't the best thing to consume when it comes to healthy foods. Not only are most wings deep fried, but the breaded portion is where a lot of the calories come from, too. Recipes such as buffalo cauliflower are a healthy alternative, but lacks in taste. You can say it tastes like a buffalo wing all you want, but it doesn't. Instead, this recipe is the closest a person can get to the real thing while watching what they eat. Like most buffalo wing dishes, they come with a side of carrots and cucumbers. For a bonus, there is a ranch dressing recipe on "The Foodie and the Fix" that is a better option than the regular ranch. It contains around ten ingredients which is quite a few, but lower the calorie intake and can be made into a dip or a dressing, deciding on how thick you want it to be. The dip comes in at 62 calories while the dressing is only 31 calories.
11

Oatmeal Chocolate Chip Cookies
Sweet tooth? Everyone has one. But, if you're trying to cut out certain foods, such as sugar or flour, from your baking duties, then this recipe is for you. Believe it or not, this yummy recipe contains no sugar, no white flour and only two tablespoons of butter. So, while it isn't the healthiest recipe out there, it is a lightened recipe from a traditional oatmeal chocolate chip cookie (or even from a regular chocolate chip cookie) that you would find in a grocery store and it still satisfies the taste buds. This recipe comes out of the cookbook, "Healthier Chocolate Treat" by Amy Atherton. If this recipe isn't for you, Amy might have other recipes to better suite you. Happy baking!
10

Chicken Avocado Burritos

[caption id="" align="alignnone" width="400"]
Via: closetcooking.com[/caption]
Burritos—they can be dressed up or down, depending on a person's cravings. Take meat out, put meat in or leave sour cream out, put loads of cheese in. Again, Mexican-esque food is super tasty and there are many ways to enjoy it. But, most of the time if you aren't careful, Mexican dishes can also be loaded with sodium and carbs. Grilled chicken and avocado are the main healthy options in this recipe, but with a little portion control regarding the sour cream and cheese, this meal is loaded with tasty ingredients and is also a lighter option when someone is wanting a Mexican dish for dinner. What's even better is that leftovers can be stored and eaten the next day.
9

Baked Chicken Fajita Roll-ups
This chicken fajita recipe gives a healthier twist on the usual cheesy, gooey goodness a fajita dish has. This recipe is packed with flavor while maintaining healthy ingredients. The recipe is easy to follow and requires multiple spices that are most likely in your kitchen already—chicken and green, red and orange peppers. This recipe can be upgraded with other ingredients such as various other vegetables that you like to cook with. You can possibly add a portion of cheese on top, too. Another plus is that after marinating the chicken, the rest of the meal preparation only takes 30 minutes to make. Bing, bang, boom!
8

Frozen Blended Coffee Drink

[caption id="" align="alignnone" width="406"]
Via: carbswitch.com[/caption]
Coffee makes the world go 'round...or so it seems. The front-running coffee franchises, such as Starbucks, Dutch Bros. and Dunkin' Donuts sell tasty coffee drinks, but most of them are filled with way more sugar than the average human being should consume in a day. Sometimes, a person just wants to treat themselves, but the sugar overload and carbs end up giving them a mid-afternoon caffeine crash. To save on money and the calories, think about making this recipe instead.
The coffee drink will still give you the tasty coffee drink flavor, has just the right amount of caffeine to kickstart your day and you can make it over and over again at home (rather than spend five dollars each day on one drink). Some of the ingredients won't be found at your local store, but can be found at the specialty food store down the road. Most of the ingredients will probably already be in your cupboard, which makes it even more enticing to make.
7

One-pot Jambalaya
This is one to write down and make again and again. If you enjoy jambalaya, this one is a must-try. This recipe doesn't skimp on the flavor or spice a regular jambalaya recipe would have. If your audience doesn't like a lot of spice, it is adjustable, but the amount of spice that it calls for isn't overpowering. The rice choice and the protein can be adjusted as well, depending on preference. What is healthy about this recipe is the use of whole grain rice, vegetables and using grilled chicken or lean ground beef. The use of diced tomatoes can be substituted for unsalted tomatoes and still taste amazing. After browning the protein, everything can be added into one pot and cooked together. Easy, not time-consuming and delicious.
6

Healthy Gummy Bears
Now this is a rare find. Who would have thought that gummy bears can be healthy? Like the articles says, eating healthy doesn't have to be boring and this proves it. They may not contain all the added sugar that you are probably used to, but these are pretty close to the real thing. What is interesting about this article is that the woman that came up with this recipe gets her recipe inspiration from Europe (Germany to be exact). Germans typically use fruit concentrate, gelatin and sugar in the form of honey. The only downfall is that it is a more difficult recipe to follow to, but definitely well worth it.
5

No-bake Peanut Butter Cheesecake
The owner of this recipe boasts that her family and friends enjoy it, even though they aren't trying to count calories (which means a lot). Many desserts that contain no sugar and are low-carb, are impossibly bland and tasteless. Well, not this one. Peanut butter, for one, is a good, healthy fat in moderation and is a positive thing to be consumed if you are looking to cut down on your eating habits. What's even better is that it is a "no-bake" recipe, which seems to be taking the World Wide Web by storm. People are busy and want to whip up something healthy, tasty and easy. Also, the cheesecake is gluten free and sugar-free, as well. Every ingredient can be mixed right into the cooking pan to cut even more time off when it comes to cleaning up. The total prep time is no more than 15 minutes.
4

One Pot Pasta
Using one pot for any recipe is a God-sent. It simply means less clean up time and less time to put away things after you are stuffed from this delicious meal. An easy and delicious meal? Sounds too good to be true. But, thankfully, it is true! Adding some vegetables to separate it from a traditional pasta dish is what makes this a lighter meal (because there are fresh ingredients, but it's not steering away from a classic spaghetti pasta meal). Prep time for this recipe is only five minutes and the cook time is only another 15 minutes. Add it all up and that means this tasty recipe only takes 20 minutes. Now, that's something we can all agree to make for dinner at least once a week.
3

Zucchini Pizza Casserole

[caption id="" align="alignnone" width="410"]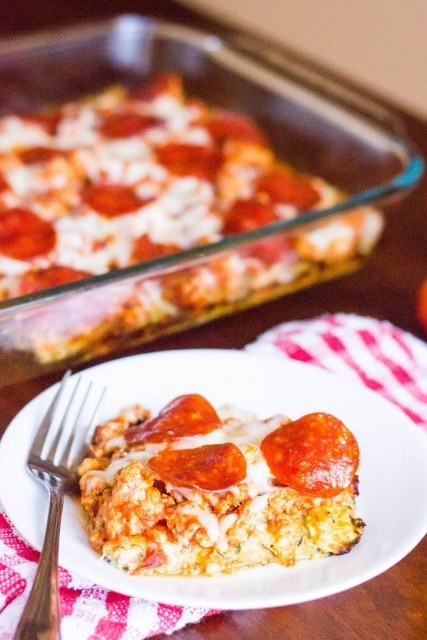 Via: kendrastreats.com[/caption]
We all love pizza. It's a magical food that instantly makes you happy. Now, mixing a casserole dish with ingredients that make up pizza sounds like a great idea. Making it a lighter dish by adding zucchini, using less sauce and less cheese makes for a healthier option, while still maintaining the taste of the dish. For protein options, use lean turkey and add a few pepperonis (you can use turkey pepperonis for an even healthier option) here and there and you have a healthier alternative to a piece of pizza, but still have the flavor of one. Also, making it into a casserole calls for leftovers. Like the recipe states, each serving is only 200 calories and has 26 grams of protein. Casseroles are also easy to store in the freezer for a rainy day and can be thawed and eaten again. Who says you can't have it all? This dish proves it.
2

Reese's Overnight Oats
Breakfast items can sometimes seem like a dessert. A lot of breakfast dishes contain loads of sugar, but not this one. This recipe can be eaten as a snack to satisfy that sweet tooth or for a healthy breakfast. Using Reese's candy gives it some sweetness, while still being a healthy option. Prepare it beforehand and it is ready to go in the morning (which is perfect for those busy mornings). The prep time is only five minutes and as mentioned before, leave it overnight and it will be ready for you in the morning. Ingredients include rolled oats, unsweetened almond milk, Greek yogurt, natural peanut butter cocoa powder and chia seeds with an option to add beloved Reese's cups. Without adding the Reese's (which let's be honest—everyone will want to,) this dessert/breakfast combo only comes in at 230 calories, provides 16 grams of protein and has only five grams of sugar.
1

Bleu Cheese Stuffed Buffalo Burger