Ever since it came out a few weeks ago, the revived onscreen version of It has been traumatizing a new generation and smashing records internationally. The infamous titular character, based off of Stephen King's story and character of the same name, was originally brought to life in 1990 by Tim Curry for a miniseries based on the novel. Now, in 2017, a new "It" has arrived. He's making waves not just for his amazing and frightening fresh new portrayal, but also for his contrasting persona outside of the character. He's none other than Bill Skarsgård, and this handsome, young Swedish actor is very different from the child-eating creature he plays onscreen. Sure, we know some things about him, like he used to be a model, he just recently turned 27 and he's insanely talented, but there other things about him the majority of the population may not know.
15

"Baseless"
According to PopSugar, Bill was born in Vällingby, Sweden, but he and his family are mostly from Stockholm. He told the New York Times about It's premiere in Stockholm, "It's more of a family gathering…I've invited all my cousins and uncles, and my sister, who works in event planning, is throwing the after-party." Even though he's from Sweden, he hasn't necessarily stayed there for all his life; in fact, he told Jimmy Kimmel he's been "baseless" the past six or so years. When asked why he doesn't have a home, he told Interview Magazine, "I think it's a commitment issue for me. I have a hard time committing to stuff." He also said it could be related to a fear of missing out on other cities.
When asked if he missed his home country, he said he did. "Here, I'm always a foreigner. America is, of course, built of people who are not from here. But going home, even just landing at Arlanda, the Stockholm airport, I think, 'This is where I'm from. These people are my people'… "It's not about being proud of Sweden; it's just a sense of belonging. Even if you've lived in a place for a long time, those first formative years are going to be a part of you forever, and it's something you can't replace."
14

His Privacy

[caption id="" align="alignnone" width="250"]
Via: viknader.tumblr.com/ "You and Me" show in Chicago[/caption]
If you've had the opportunity or urge, you'll discover that Bill's a pretty private person – he doesn't even have any public social media accounts! While everyone else his age seems to be more so about their online images and branding themselves, he seems to be more focused on conveying characters, telling stories and being recognized for his abilities if anything. He even admitted to the New York Times that he's a private person, and he's fine with the fact that he disappears underneath layers of prosthetics and other disguises for this film. "I'm a pretty private person, so I don't mind not being recognized," he said. "It's nice to hide behind the makeup." In an age of constant communication with the world and continual attachment with others, its distinctive to see someone prefer privacy – especially someone whose career is to usually be in front of people whether on a screen or in person.
13

His Large And Talented Family
If Bill's last name sounds familiar, that's because he comes from a large dynasty of acting Swedes. He once joked, "It's a Swedish law that if your last name is Skarsgard, you have to be an actor." With seven siblings and an actor father heading up the crew, it's no surprise to see talent running in his genes. His father, Stellan, and one of his older brothers, Alexander, are probably some of the more recognizable names. His father was in such projects like Pirates of the Caribbean, Good Will Hunting, and Thor, among others. His brother Alexander is known for his roles in "True Blood," The Legend of Tarzan, "Big Little Lies," and Zoolander. His other acting siblings include Gustaf and Valter, but he mentioned his youngest siblings could still get into acting as well. Even his immediate relatives who weren't bitten by the acting bug are doing some great things: his mother and one of his brothers are doctors and one of his sisters is a model.
12

Childhood Goals
When asked by Jimmy Kimmel whether being an actor was something he wanted to do or something he was pressured to do, he said he wanted to, and that you really have to want to be an actor because of all that comes with it. He mentioned the inclination to pursue acting started when he was a kid; his dad's career kind of took off when he was a young child, and he and his family had the opportunity to travel with his dad to exotic locations and watch him work. "For a kid, acting is the most appealing job ever, like you're eight years old and you're on a set and your dad's on the set… he has like a gun, fake mustache, and like the whole thing…For me, as a kid, that's what you did, play with your friends. So the appeal of this imaginary, fantastical way of just being paid and being an adult and acting like a child, I think was planted at a very young age."
11

He's More Of A Night Person

[caption id="" align="alignnone" width="500"]
Via: Netflix's "Hemlock Grove"/ Tumblr[/caption]
He told Interview Magazine he usually gets up between 9 a.m. and 10 a.m., and that he's always been a night person rather than a morning person. "There's a sense of virtue attached to getting up in the morning and doing things and starting the day, and I always felt bad for not being that person. But as I've gotten a bit older, now I'm completely okay with it. That's just who I am… I just don't like mornings." While most people feel like days fly by and wish the days were longer so they can get more done, Bill seems to hold an opposing kind of mentality, saying, "the day feels way too long for me." He even described his ideal day length as a Stockholm day in winter.
10

His Infamous "It" Smile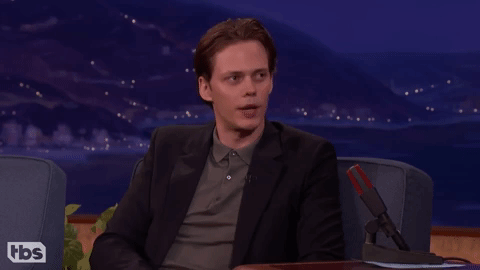 There are many creepy things about Bill's "It," one of which is his unsettling smile. When he was on Conan, he was asked whether that smile came naturally to him or whether it was something he had to work on. He said his older brother Gustav, who's also an actor "had this ability to point his lip in a very strange way." Seeing his brother smile that way inspired him at the tender age of 10 years old to try it out as well. "So I came up with this character called Yogakin – which is a Swedish name – and I would pull my t-shirt up over my head so you would just…[see his isolated face] and then I would chase my little brother and scare him." So he's basically had practice and experience scaring little children ever since he was a child himself!
9

Jurassic Nightmares
In an interview with NME, he said the first movie to really frighten him was Jurassic Park when he was about five or six. "My brother Gustaf is 10 years older than me and the coolest thing in the entire world was to be allowed to sit in his room and hang out with him. One time he was watching Jurassic Park and said I could come watch it with him. I sat there knowing I wasn't supposed to be watching this violent, scary movie, but I am and it's amazing. My dad came in and he got really upset. He really let Gustaf have it. I remember I was furious. 'How dare you be angry at someone for doing something so generous as to let me watch this incredible film! I am having the time of my life!'… I think I understood the difference between real and imaginary, but I had very vivid nightmares about dinosaurs looking in through my bedroom window."
8

He Doesn't Like Boredom
Given that "It" itself is a manifestation of fears, Bill told Hero Magazine some of his own fears, one of which is boredom. This fear of boredom can be witnessed in his desire for diversity in his acting career, saying "Some actors tend to only do parts where they can play in those comfort zones and you get bored of them because they always do the same thing over and over again. I think if I have a goal, it would be to play so many different complete characters." He told the New York Times that he doesn't want to be typecast, saying "I wouldn't want to be associated with one character, because I want to be able to do different roles…Pennywise looks and sounds so different from me that I could do a rom-com next, and people probably wouldn't even know I was the same guy." He also told Dazed he doesn't mind villainous parts because there's usually something that makes them more complex and interesting. That said, it was a wonderful fit when he was asked to play Pennywise, telling NME, "I'm in my mid-twenties, so the roles I'm usually going up for are characters that might be fun, but they're all pretty close to me…It's very rare, especially for younger actors, to even get the opportunity to audition for this kind of transformative character."
7

His Other Fears

[caption id="" align="alignnone" width="379"]
Via: Netflix's "Hemlock Grove"/ controversial-christian-teen.tumblr.com[/caption]
Another one of his biggest fears is being alone, attributing this to having such a large family and being surrounded by so many people growing up. He told Hero Magazine, "think it's my biggest fear because, coming from such a big family where there were always friends and people around… every one of us including Alex, Oss, Sammy, Ei and Valter, have had our friends over at our place more than we've been at our friends' houses. For me the meeting point, like our apartment, was the center point of all my friends and my family. That's how I always want to live I think, to be able to have a house where people can come and stay as they want, with open doors. What I'm scared of is not having that, and having a house no one wants to come visit."
6

His Most Challenging Role

[caption id="" align="alignnone" width="598"]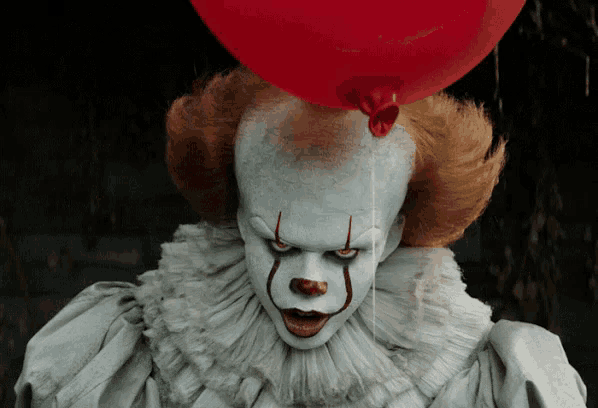 Via: Warner Bros./ Tenor[/caption]
In an interview with NME, he described how lonely of an experience It was for him. "I didn't have any scenes with anyone that wasn't a kid. It was strange because we created this sort of separation. The character was very demanding of my concentration and focus. It was certainly the loneliest film shoot I've ever done. I was so isolated…My co-workers were all kids and they got really tight and became best friends on the shoot… while I felt really isolated and lonely." Other elements that added to this challenging aspect of the role was how time and energy consuming it was. He told the New York Times the process of transforming into Pennywise took two and a half hours, but even that wasn't the most exhausting part. "Normally when you do a movie, you have those mundane days when it's like, 'Today is the scene where I get coffee… With this character, there were none of those. Everything I did took 100 percent of my energy. It was by far the most exhausting character I've ever done, physically and mentally." He also admitted to feeling fear of not living up to everyone's expectations with this role, but thankfully, everything seemed to work out and he's exceeded what people anticipated.
5

He Likes Martial Arts

[caption id="" align="alignnone" width="387"]
Via: 20th Century Fox/ Know Your Meme[/caption]
In an interview with Dazed, he admitted that he's also a fan of martial arts. "I'm really addicted," he said. "Alexander Gustafsson is this Swedish heavyweight fighter, he's huge and obviously my go-to guy. He had this legendary fight with Jon Jones for the heavyweight belt in 2013 when we were shooting 'Hemlock Grove' in Toronto. To date, it's one of the best title fights in the history of (the sport). The entire crowd had switched from Jones to this underdog Swede. Everyone was cheering him and it was a wonderful, surreal moment. He lost the fight, but he won the crowd." Similar to acting, he seems to enjoy the unpredictability and thrilling nature of the sport, the showmanship, the magnetism that can come with watching something so exciting with an unexpected outcome.
4

Friendship With His Child Co-Stars
He told Collider that working with his child co-stars was "really fun." He said he "tried to bring out the best in them as we were shooting. Encourage them…They are very smart and creative people." He also said when it comes to working with child actors, he's unsure of how "game" they are, telling Jimmy Kimmel sometimes they may have raw talent or sometimes they're like professional actors by the age of 12. When asked whether or not the kids were scared of him, he said he wasn't sure. When shooting the first day for It, he told a story where he acted out an intense scene with Jack Grazer, the actor who played Eddie. Bill was concerned he may have traumatized him because of how intense of a scene it was, so he asked after the scene cut if Jack was okay, to which Jack responded, "Love what you're doing with the character!" Talk about professionalism! It's nice to know Bill was fully prepared to care for his young co-stars after the intense and frightening bits. Jeremy Ray Taylor, who plays Benjamin, described him as really nice and he would give them tips in between scenes and encourage them.
3

His Opinion On Horror

[caption id="" align="alignnone" width="350"]
Via: Paramount Pictures' "Mean Girls"/ Know Your Meme[/caption]
When asked if he likes scary movies by Jimmy Kimmel, he said, "It's weird, I've kind of become this like genre actor now... I never really got into the idea of getting scared." He said there are basically two camps of ways fear is handled: loving the sensation of fear and getting a kick out of it, or getting upset, angry, and well, scared. He also told Dazed that despite his experience playing dark characters, including his role as "Roman Godfrey" in "Hemlock Grove," he wasn't a huge fan of horror films growing up. "I was never super into the sensation of getting scared…But then I watched a lot because I've been doing horror so much." His favorite is the cult South Korean bloodbath Oldboy.
2

Living In "Clown Face"
Regarding the audition process for It, he said he was in LA when they asked if he wanted to audition for the infamous clown character. He told Conan, for the callback, director Andy Muschiette wanted him and the other person who didn't wear clown face in the first audition to wear clown face for the next audition and work on a laugh. The day before the callback, he was in a house of other people and he felt self-conscious practicing his clown laugh there, so in the car the day of his next audition, with his clown face on, he practiced his laugh and went for it. Driving through Hollywood, wearing clown face and laughing maniacally – what a way to add some spice to a commute. To make things worse, the casting director's place only had street parking, so he had to park the car and walk a few minutes to the place in clown face. He said there were two ways to go about it: walk self-consciously, or walk in character with commitment. He chose the latter. Despite seeing a man parading around in clown face, he said everyone he passed didn't seem phased. Just another regular morning for Tinseltown folks.
1

His First Film

[caption id="" align="alignnone" width="245"]
Via: Scanbox Entertainment/ Tapatalk: The Dome[/caption]
His first film was White Water Fury when he was nine years old with his older brother, Alexander. He told Interview Magazine what little he recalled, "I was the only kid on set, and I remember I got upset for some reason." His brother Alexander had a fonder, sweeter memory which involved seeing his little brother waiting outside for him in a big parking lot, and Alexander said it was the first time he ever really felt needed, in a paternal sense. How sweet! As his career progressed, Bill would get cast in a handful of roles in Sweden, including his award-winning role as young man with Asperger's syndrome in Simple Simon. His first major U.S. role was in the Netflix fantasy series "Hemlock Grove," followed by his role as Matthew in the Divergent series film, Allegiant. He recently played alongside Charlize Theron and James McAvoy in Atomic Blonde and in Assassination Nation with Hari Nef and Suki Waterhouse. With the monster success that is It, Bill's career can only go up!