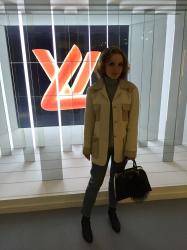 Jessica Cooper
Jessica Cooper is a freelance Editor of fashion, beauty, travel, culture and luxury lifestyle. Her work has been published in publications such as Dazed, Marie Claire, Cosmopolitan, ODDA Magazine, Look, Women's Health and Eclectic. As well as constantly running covering events around London, Jessica is a passionate traveller and aims to explore the world. A budding writer, Jessica is currently writing her debut novel: a YA Fantasy. And no, there aren't any vampires in it. Her weaknesses are black cashmere turtleneck jumpers, Laduree macaroons and anything to do with Disney.
Articles by Jessica Cooper
DIY
Life is hard when you're a Disney fan.
Food
Who isn't tired of the practically perfect, overfiltered Instagram feeds chock full of posts screaming: #OMG #NoMakeup #OOTD #NoFilter #Goals ???