This cat with two noses is so cute that we're not even sure why it took so long for him to find his fur-ever home.
We do know why Doby was abandoned as a kitten though: he suffers from cerebellar hypoplasia, a brain condition that affects the inner ear. Basically, it makes him a little wobbly. He has a bit of trouble standing up, and if he gets excited he might show it by vibrating enough to fall over. As far as medical conditions go, it could be a lot worse.
Completely unrelated to the brain condition is his twin snout, which is actually one sniffer that's cut in half. He's got a cleft nose. 
Doby's story starts off sad but gets a lot better. He was abandoned as a kitten due to his slightly bizarre appearance (although we think it's cute). Doby then made his way to The Cat House on the Kings, a shelter for kitties in Los Angeles, California. There, Doby met a few other strays and socialized well into an adorable kitten.
But he had trouble getting taken home. So when a member of the Friends for Life Rescue Network heard about Doby's story, they sent a friend down to take a few pictures and post them on their Instagram page.
Thanks to the free advertising, Doby found his forever home with Jeanne.
"I had stayed in touch to send her photos of my two polydactyl bobtail sisters that were adopted through [the ]rescue about a year before," Jeanne told The Dodo in an interview. "I saw his little bat face and that was it. We didn't know a lot about him at first, so we did our research on cerebellar hypoplasia and cleft palates to make sure our home was safe and accessible for him."
"Doby is a happy, chirpy sweetheart," Jeanne continued. "He has so much love in his tiny little body. He sings to us in the morning when we wake up and chatters at us all the way to the food bowl. The bowl is always full, but he likes for one of us to stand with him while he eats."
RELATED: TOM & JERRY IRL - GENIUS MOUSE PLAYS DEAD TO ESCAPE CAT
Now a full-grown cat, Doby is a spunky and cheerful kitty. The only concern Jeanne has with his nose is a risk of infection, so she takes good care to ensure that Doby's double-sniffer stays clean.
"We joke that Doby has a double snoot, so there is more snoot to boop," Jeanne said.
Interestingly, another cat with two noses was recently rescued by the Odd Cat Sanctuary inSalem, Massachusetts. Memphis, the adorable kitty "was born with a cleft lip", but he hasn't let it get him down or stop him from doing any regular cat activities. He is in need of a fur-ever home, just like Doby has found, and will soon be put up for adoption!
[caption id="" align="alignnone" width="980"]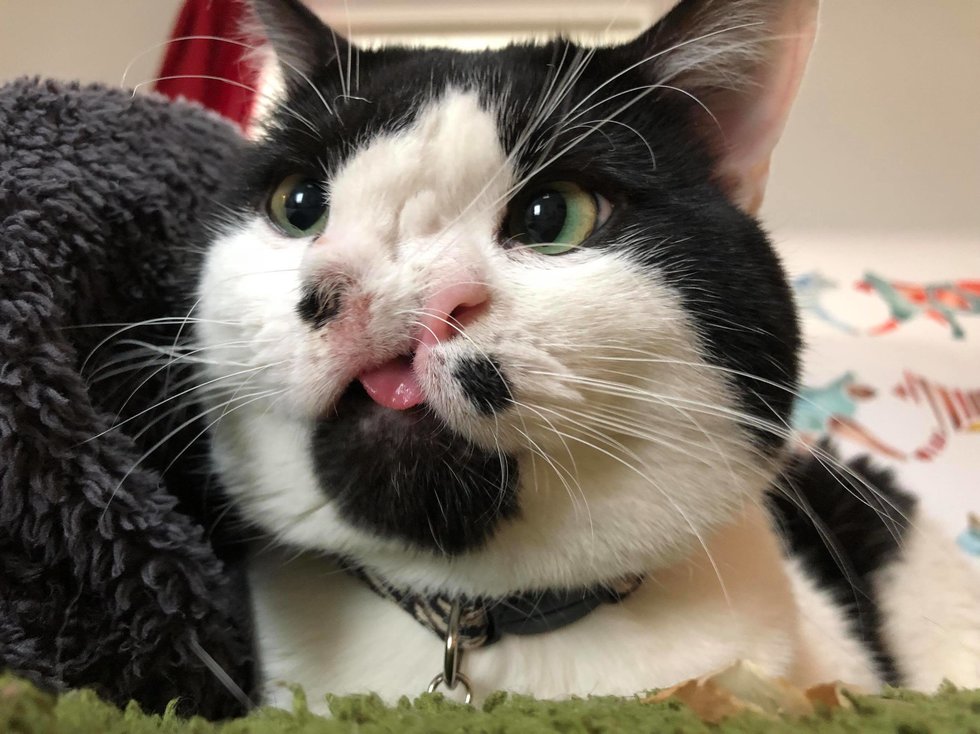 Via The Odd Cat Sanctuary[/caption]
What do you think of these two adorable and special kitties? We have fallen in love. Let us know your thoughts in the comments!
NEXT: AIRLINE SAVES FRENCH BULLDOG WITH OXYGEN MASK
Exclusive Interview: Cinematographer Gonzalo Amat Creates The Visually Stunning And Surreal "The Man In The High Castle"