The world's first hydrogen trains began commercial services in Northern Germany on September 17th, 2018, paving the way for a new era of sustainable travel.
Two bright blue-colored trains will now ferry passengers on a 100km (62-mile) stretch of rail line between the cities and towns of Cuxhaven, Bremerhaven, Bremervörde, and Buxtehude in Lower Saxony , according to The Guardian. The hydrogen-powered train, known as the Coradia iLint, was developed by French train manufacturer Alstom and is equipped with fuel cells that produce electricity. It is much more eco-friendly, with zero carbon dioxide emission— only steam and water as a byproduct of the process of converting oxygen and hydrogen into electricity.
Altrom's latest innovation can run for about 600 miles (1,000km) on a single tank of hydrogen, similar to the range of diesel trains, and is also significantly quieter than its diesel counterpart.
[caption id="" align="alignnone" width="992"]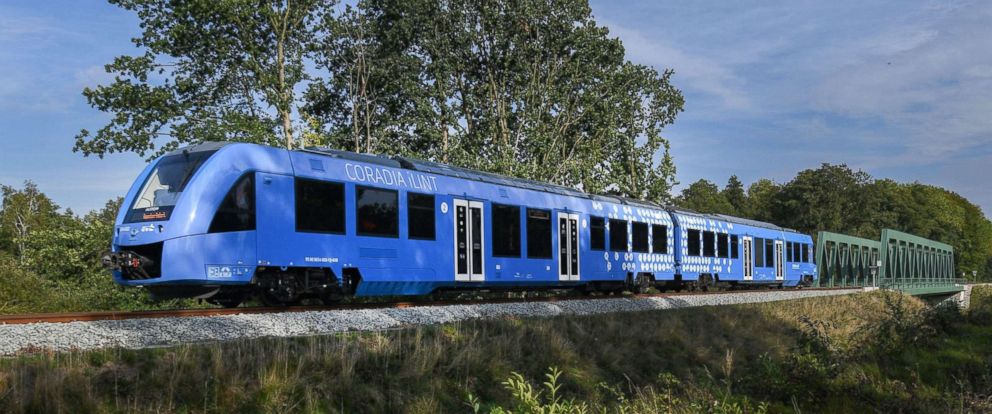 Via ABC News[/caption]
PREVIOUSLY: Australian University Pioneers Low-Cost Printable Solar Panels Amid Rising Energy Concerns
An issue, of course, is cost. Stefan Schrank, the project's manager at Alstom said that while "a hydrogen train is somewhat more expensive than a diesel train",  it is, however "cheaper to run". Alstom has said it plans to deliver another 14 of the zero-emissions trains to Lower Saxony state by 2021, while other German states have also expressed an interest.
Henri Poupart-Lafarge, Chairman and CEO of Alstom considers this to be a "revolution", not only for Alstom, but also for the future of mobility. For him, the innovation results from great "French-German teamwork" and is an example of "successful cross-border cooperation".
With many German cities scrambling to combat air pollution, a greener, quieter alternative to diesel on non-electrified railway lines is proving to be an attractive prospect indeed. Also, with 120 of their diesel trains set to reach the end of their lifetime within the next 30 years, Carmen Schwabl, LNGV's Managing Director, believes that this project looks like a sustainable and practical solution to their future problem when these trains will have to be replaced.
Other countries including Britain, Canada, France, Italy, Norway, the Netherlands, and Denmark have already shown interest in the new clean energy train technology, according to The Guardian. In fact, the French government has hinted to the introduction of the first hydrogen train on the tracks by 2022.
READ NEXT: Japan's Newest Bullet Train Will Please Hello Kitty Fanatics
Celebrity Chef Gordon Ramsay As Nathan Drake Jokes Floods Social Media