Female members of the Japanese royal family have to relinquish their title if they marry a commoner, but that did not deter Princess Ayako from marrying the love of her life, a non-royal.
Princess Ayako and her new husband Kei Moriya married on Monday, October 28th, 2018 at the Meiji Shrine in Tokyo, surrounded by close friends and family members. Hundreds of well-wishers had turned up at the shrine to congratulate the bride and groom on that special occasion.
PREVIOUSLY:  15 Royal Rules Meghan Markle Had No Choice But To Follow On Her Wedding Day
Ayako, 28, is the youngest child of Princess Hisako and the late Prince Norihito, who passed away at age 47, back in 2002. He was the first cousin of Emperor Akihito. The beautiful bride was dressed in a pale yellow kimono, embroidered with red flowers and green leaves. She also wore a pair of wide-legged trousers and had her hair styled in the traditional, imperial aristocratic way. Kei, meanwhile, wore a morning suit with pinstriped trousers.
[caption id="" align="alignnone" width="2500"]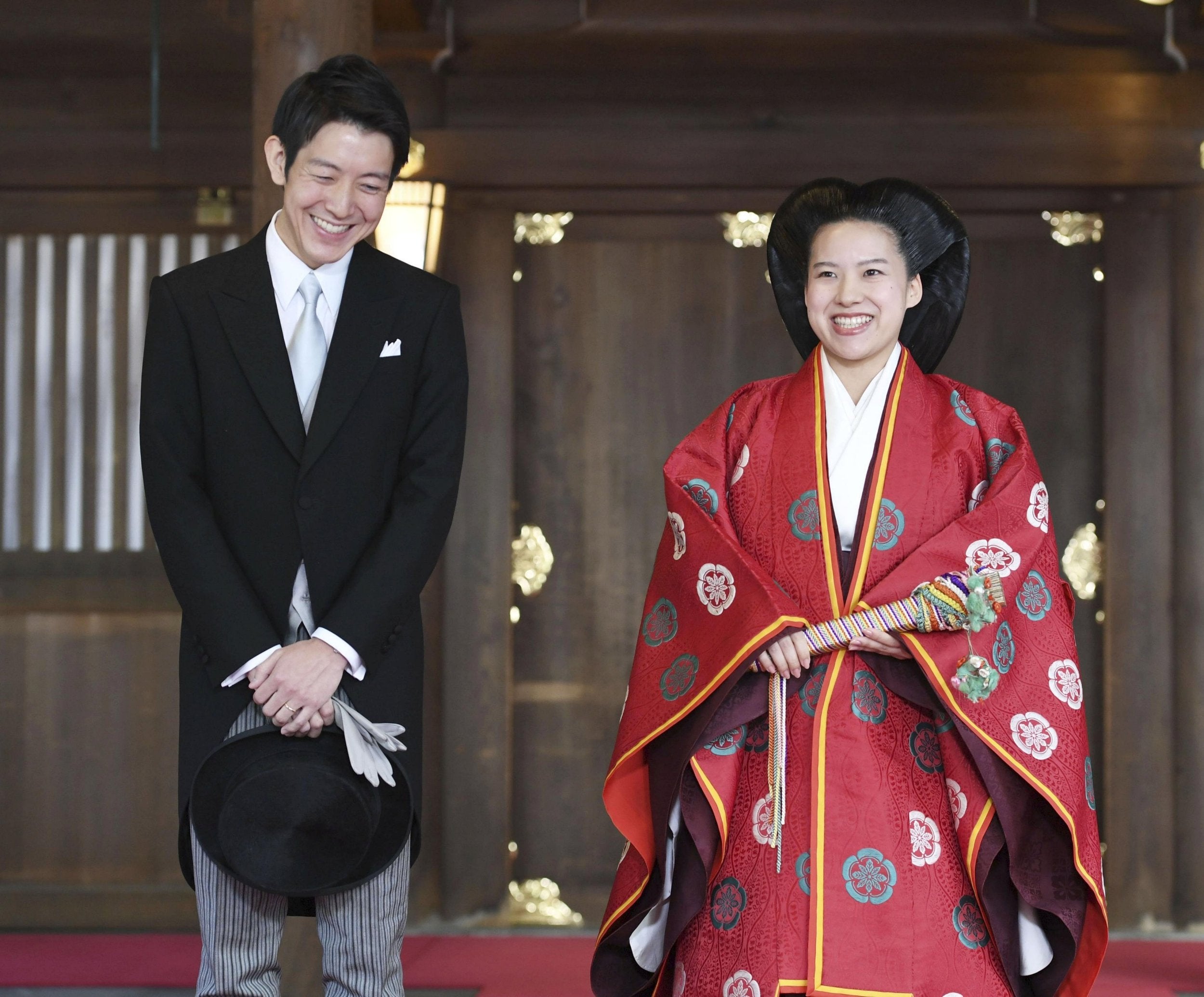 Via REUTERS/Kyodo[/caption]
The bride and groom also offered prayers at the Meiji Shrine. Ayako had changed into her second wedding outfit – a deep red kimono with yellow piping. She carried the same fan made of Japanese cypress.
"I'm filled with joy to marry and to have so many people visit us at the Meiji Shrine and congratulate us," she told press after the traditional Shinto ceremony. "I am very happy that we held the wedding at this Meiji Shrine where my great grandfather Meiji Emperor is worshipped. I feel so happy."
Kei, an employee for shipping company Nippon Yusen said he hoped to help Ayako adjust to a commoner's life. He added that his wife looked "beautiful". Touching on the subject of children, he said that he would "like to support her firmly and, hand in hand, build a happy family with lots of laughter."
Ayako and Kei announced their engagement in July, when it was confirmed that the princess would give up her title and position in the line of succession, choosing to marry for love. Ayako will receive a lump sum of around £780,000 from the Japanese government to support her living expenses. "I will leave the imperial family today, but I will remain unchanged in my support for his majesty and her majesty," said Ayako.
READ NEXT: 15 Absolutely Amazing Things That Would Only Happen In Japan, But Never In America
Microsoft Japan Boosted Worker Productivity By 40 Percent Through Giving Longer Weekends