For many of us, we don't just watch our favorite television shows – we are obsessed with them! We want to be the main characters. We want to hang out with these on-screen groups and possibly even date some of them. We want to steal their wardrobes. We want to live where they live.
Unfortunately, these people and these sets from TV are made up. However, there is some good news for us: we can bring our love of our favorite shows into our homes through art, furniture, and DIY projects.
To get started here are 10 inspiring ideas!
10

Copy The Set
If you love the mid-century modern furniture found on Mad Men, then go shopping at thrift stores and antique shops, in order to find those sleek lines. This style is hugely popular though so you may be able to go to a simple furniture store as well. This technique of buying similar furniture can work for almost any TV show, especially if the set is unusual!
RELATED: DC Comics' August 2018 Solicitations
9

Hang It Up
Art is an easy way to show off your love for certain TV shows, and we particularly love these unique blueprints. They give a behind-the-scenes look at popular aspects of television series. In this case, it's Star Trek. Plus, they will look super neat hanging in any space in your home!
8

Give A Nod
Another way to bring televised worlds to life in your own home is through home accessories. By giving a little nod here and there to certain TV series, you can show that you are obsessed with Westworld, for instance, without having to turn your house into an actual Western saloon!
RELATED: 22 Amazing Nail Art Designs Inspired By Your Favorite TV Shows
7

Find A Replica
You can also find replicas of some of the cool items seen on TV shows – like these lights from Stranger Things! During the holiday season, you could turn a whole wall into a light-up alphabet, or you could just have this miniature version hanging up in one area all year long.
6

Create Some Art
If you are feeling really crafty, you can also create your own projects that show your appreciation towards certain shows. The frame on the door from Friends, in particular, is super recognizable, and super fans could even make their own versions. It's an easy way to call back to that iconic apartment!
RELATED: 17 Relationship Lessons We Learned From Friends
5

Turn To Etsy
Etsy is full of handmade gifts, and no matter what series you are currently loving, this site is for you! We are loving this New Girl mug, which would be the perfect thing to give your BFF on her birthday – or the perfect thing to add to your own kitchen.
4

Set The Mood
Sometimes, showing off a series you love is all about setting the mood. For instance, you may live and breathe Game of Thrones, but instead of filling a room with thrones made out of swords and realistic dragon heads, you could use specific colors, sophisticated artwork, and super cute accessories.
RELATED: Top 15 TV and Movie-Inspired Bars You NEED To Visit
3

Get Super Literal
On the other hand, you may love a television so much that you need your place to look just like your favorite character's home. In that case, you can, once again, copy sets and even buy the exact products that you see in shows such as The Big Bang Theory like this shower curtain.
2

Pretend You're Them

[caption id="" align="alignnone" width="570"]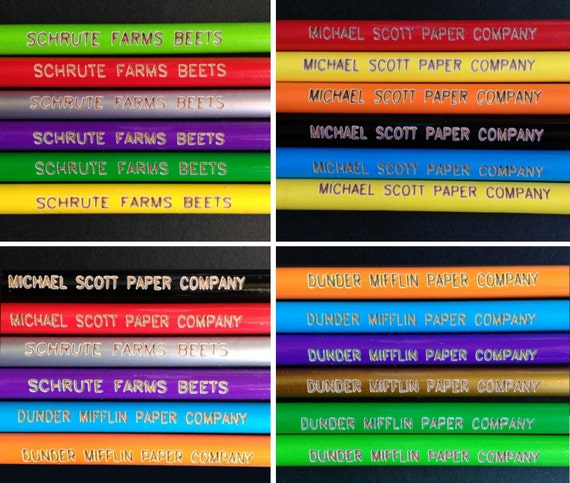 Via Etsy[/caption]
If you worked at Dunder Mifflin from The Office, you probably would have used pens and pencils that sported your company's name and logo. And even though you don't work in that wacky workplace, you can still keep mementos of the iconic show at your own place of work with great products like these!
1

Honor Their Traditions
Most of the ideas on this list can be incorporated into any space. This last one, though, proves that some TV series are so crazy that some fans just have to have the fun that those characters had. Therefore, browse online to find things like the Flipadelphia beer pong table from It's Always Sunny in Philadelphia, in order to honor the traditions set forth by your fave characters and play like them, too!